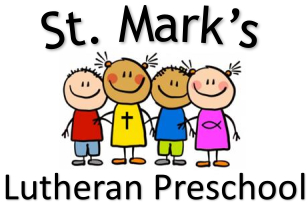 Our philosophy is,
"We learn to play and play to learn".
St. Mark's Lutheran Preschool is a Wisconsin State Licensed Preschool program designed for 3 and
4 year old children in a warm, caring Christian environment. Our purpose is to be in partnership with parents, providing developmentally appropriate experiences that promote social, emotional, cognitive, physical and spiritual development through playful learning experiences.
At St. Mark's children can feel secure and stimulated to discover and explore as they develop relationships with their peers and teachers. We also foster a relationship with Jesus as their Friend and Savior through age appropriate religious instruction taught by qualified, degreed, Christian teachers.
St. Mark's Lutheran Preschool is in session from September through May. Enrollment is open to children who are 3 or 4 years of age by September 1st and are potty trained. St. Mark's member children as well as children from the community are all welcome to enroll. St. Mark's Lutheran Preschool admits children of any race, color, handicap, and ethnic origin.
Curriculum Goals
The curriculum provides opportunities for learning in all of the developmental areas .St. Mark's teachers plan activities using a thematic approach and follow the Wisconsin Model Early Learning Standards. The overall goals of the curriculum will be to meet the needs of the children in each of the following areas.
Grow spiritually so as to develop a sense of trust; realize their need for God's love; know Jesus as their personal Savior; respond to God's love and care; and see themselves as God's Children.
Grow emotionally so as to develop a positive self-concept; be free to risk failure and be comfortable with mistakes; develop a sense of security and trust; show independence and self-responsibility; and channel emotions into appropriate and acceptable outlets.
Grow socially so as to learn to play, work, and communicate with peers and adults; adjust to group situations; accept others even though they may be different from self; develop a sense of community; and accept change in environment and routine.
Grow physically so as to develop large and fine motor coordination; develop eye-hand and eye-foot coordination; become aware of his/her own body.
Grow intellectually so as to continue to develop language use and understanding; develop pre-reading skills such as; visual discrimination, understanding of symbols, love and interest in books; develop pre-math skills such as: sorting and classifying, understanding of symbols, time and space; develop an ever increasing attention span; complete tasks begun; and initiate his/her activities.
Grow creatively so as to view him/herself as a unique individual created and valued by God; express ideas in his/her own unique way; be free to create artistically using a variety of media; and develop his/her God-given talents and abilities.