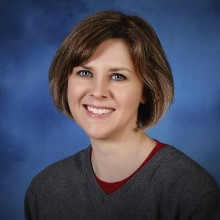 Jean Drake
Born and raised in Edgar, Wisconsin, I grew up the youngest of six children. I graduated from NTC in 2000 with an Associates in Printing and Publishing, and soon accepted a position at Quad/Graphics in Sussex, Wisconsin as a Post-Press Service Representative. It was at this company where I met my husband, Brad, who was a co-worker of mine in the department. After a year, I left for Derco Aerospace in Milwaukee to work as an Accounts Payable clerk.
After marrying in April of 2004, Brad and I agreed that relocating to Wausau to be closer to my family was a good idea, and we did so in the summer of 2005. When our daughter Emily was born the following year, I became a temporary stay-at-home mom from 2006-2008. After reentering the workforce, I again took time out from my career from 2010-2012 when our son Evan arrived. During this period, I studied at NTC in the Administrative Professionals program through their Virtual College. In 2012, I was hired at Graebel Companies to work in Accounts Payable and later moved on to Auditing, where I concluded my time at the company in the fall of 2018.
In December 2018, I started my position at St. Mark's as the Office Administrator where I have felt welcomed and valued since my first day! I am grateful for each day's opportunity to interact with the extraordinary people of this congregation, and I feel blessed to work alongside the skilled and dedicated members of the St Mark's staff.