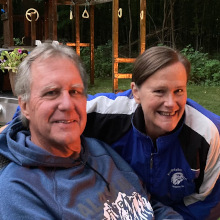 Pastor Gary Schultz
Rev. Gary Schultz married the love of his life, Nan, on August 23, 1975.
He then graduated from Concordia in St. Paul, MN in May 1976. From 1976-1978, he served at St. Philip Lutheran Church & School.
From 1978-1987, while in St. Louis, he taught 5 years at CCLS in Kirkwood MO (Concordia Lutheran Church) and was Youth Director at Webster Gardens L.C. During this time Nan also delivered 3 babies in St. Louis.
He started Concordia Seminary in 1983, Vicared in Torrington WY, graduated from Seminary in 1987. His 1st Pastor call was St. James L.C. in Necedah, WI and St. Paul's L.C. in New Miner, WI. During this time, he had training in Bethel Services, a 2-year Bible Study, St. James also bought 7 acres on the river and built a new worship and educational facility.
In 1992 he took a call to Trinity L.C. on Stewart in Wausau. Nan also taught there for 20 years before retiring to spend time with grandchildren. It was during this time Pastor Gary took Small Group training with Stephen Ministries. He and Nan were trainers / mentors for PLI. He taught the Pastors while she worked with their wives.
In addition, Pastor Gary also took C.O.R.E. national training for working with addictions. Both he and Nan led marriage retreats for a decade and mentored couples for small group training for 12 years. In 1987, Trinity purchased numerous properties around the church and school so they could build an addition to accommodate the start of contemporary worship.
They have 3 grown children and 7 grandchildren within 15 miles. Pastor Gary retired in October, 1992. Both he and Nan enjoy using their gifts for the Kingdom, traveling and spending time with family.
Pastor Gary served on the Board of Directors of the NWD LCMS for 6 years and the Brazil Mission Society for 5 years.
Currently he and Nan teach pastors and their wives' leadership for PLI International. They have gone once to Ethiopia and 5 times to Tanzania.